Simplifying GDPR Compliance with Complyan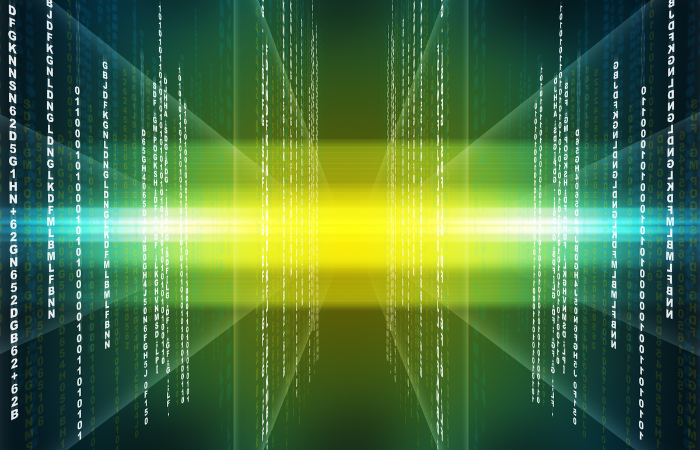 The General Data Protection Regulation (GDPR) is a comprehensive regulation introduced by the European Union (EU) to protect the privacy and personal data of EU citizens. The GDPR applies to all businesses, regardless of their location, that handles the personal data of EU citizens. Failure to comply with GDPR can result in hefty fines, negative publicity, and loss of customer trust.
This article aims to provide an overview of the critical requirements of GDPR, offer some practical tips to achieve compliance, and demonstrate how Complyan can help make the compliance process easier and more effective. With the ever-increasing threat of data breaches and cyber-attacks, businesses must take GDPR compliance seriously, and this article will show you how Complyan can help you achieve that.
The GDPR is a comprehensive framework that can sometimes be tricky to understand. The following are some of its key requirements:
Data Protection
Compliance with GDPR is crucially dependent on data protection. Businesses must ensure that personal data is handled properly, legally, and openly. They must guarantee data accuracy and keep only as much data as is required. Businesses must also take organizational and technical precautions to protect customer data. Implementing suitable data security measures, such as encryption, access limits, and data backups, is one approach to this.
Data Subject Rights
The GDPR also includes data subject rights as a fundamental requirement. The rights to access, rectification, erasure, and data portability are only some rights data subjects enjoy under GDPR. Businesses need to have the procedures and tools in place to respond to requests from data subjects to effect any of their rights. Businesses must put in place procedures for managing requests from data subjects and making sure that staff members are taught on GDPR standards in order to accomplish this.
Compliance Auditing and Record Keeping
Compliance auditing and record keeping are crucial for GDPR compliance. Businesses must keep thorough records of all data processing activities under GDPR. This entails monitoring data flows, processing goals, and data mapping. By keeping accurate records, businesses can demonstrate their compliance with GDPR and ensure they are aware of the personal data they process.
Privacy-by -design
Privacy must be considered at every product or service development stage. Adopting a privacy-by-design principle is key to compliance with the GDPR. To achieve this, businesses must conduct privacy impact assessments, which involve identifying and assessing the privacy risks associated with their processing activities. They must also integrate privacy into their development processes by implementing privacy controls, conducting privacy training, and appointing a privacy officer.
Breach Notification
Breach notification is another critical requirement of GDPR. Under GDPR, businesses must report data breaches to supervisory authorities and data subjects without undue delay. To achieve this, businesses must have an incident response plan outlining the steps to be taken in case of a breach. This includes identifying and containing the breach, assessing the impact of the breach, and reporting the breach to the relevant parties.
Appointing a Data Protection Officer (DPO)
In addition to the above, GDPR requires businesses to assign a data protection officer (DPO) if they process certain types of personal data. The DPO is responsible for ensuring GDPR compliance within the organization. Businesses must also obtain consent from data subjects for data collection, retention, and erasure. The consent must be freely given, specific, and informed, and data subjects must have the right to withdraw their consent at any time.
Tips for Achieving GDPR Compliance
Maintain accurate records of processing activities:
Keeping accurate records of processing activities is essential for GDPR compliance. Organizations should document all processing activities, including data mapping, processing purposes, and data flows. By maintaining these records, organizations can demonstrate accountability and transparency to regulators and data subjects. Tips for effective record-keeping include:

Using a centralized system to manage records
Regularly reviewing and updating records to ensure accuracy
Assigning responsibility for record-keeping to a specific team or individual



Implement technical and organizational measures:
To protect personal data, organizations must implement technical and organizational measures, such as access controls, encryption, and regular system updates. These measures should be appropriate to the level of risk associated with the processing activities. Tips for effective implementation of these measures include:

Conducting regular risk assessments to identify vulnerabilities
Training employees on data security best practices
Engaging with third-party vendors to ensure they are also implementing appropriate measures



Assign a Data Protection Officer (DPO):
A Data Protection Officer oversees an organization's GDPR compliance efforts. Under GDPR, specific organizations are required to appoint a DPO. Even if not required, having a DPO can be beneficial for ensuring ongoing compliance. The DPO should have expertise in data protection and privacy law, and their responsibilities may include:

Monitoring compliance efforts
Providing guidance and advice to employees
Acting as a point of contact for data subjects and supervisory authorities



Get consent for data collection, retention & erasure:
Organizations must obtain valid consent from data subjects for collecting, retaining, and erasing their personal data. This means that the consent must be freely given, specific, informed, and unambiguous. Tips for obtaining valid consent include:

Providing clear and concise information about the purposes of data processing
Making it easy for data subjects to withdraw consent
Keeping records of consent obtained



Establish breach response protocols:
Organizations should have an effective breach response plan to minimize the impact of a data breach. This plan should include procedures for reporting breaches to supervisory authorities and data subjects and steps to contain and investigate the breach. Tips for establishing an effective breach response plan include:

Assigning responsibilities for different aspects of the plan to specific individuals or teams
Regularly testing the plan to ensure its effectiveness
Continuously updating the plan based on lessons learned from past breaches



Regularly review and update compliance efforts:
GDPR compliance is an ongoing effort. Organizations should regularly review and update privacy policies, data processing activities, and other GDPR compliance measures to ensure they remain up-to-date and effective. Tips for ongoing compliance efforts include:

Conducting regular audits of compliance efforts
Staying up-to-date on changes to GDPR
Providing regular training to employees on GDPR requirements
How Complyan Can Help Achieve GDPR Compliance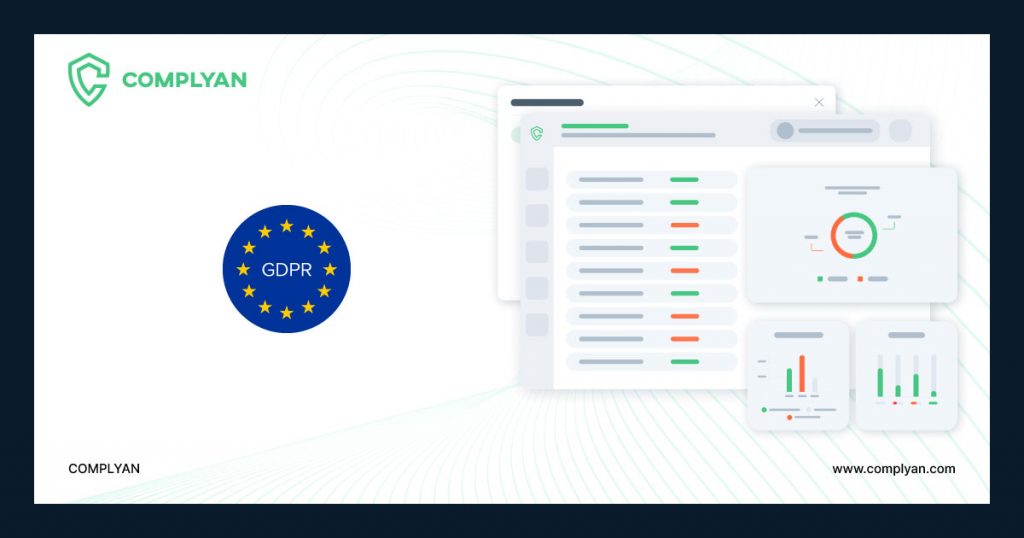 Complyan is an end-to-end cybersecurity compliance platform that provides various services that help small and large enterprises assess, achieve, and maintain compliance with cybersecurity frameworks. With various modules addressing specific aspects of cybersecurity and cybersecurity frameworks, Complyan modules can help you achieve compliance with the GDPR in the following ways:
Data Security and Privacy Module: The data security module of Complyan provides the tools and features to help organizations achieve the three core elements of data security—confidentiality, integrity, and availability. It can help organizations achieve the data protection, record keeping, breach notification, and privacy by design requirements of the GDPR. Likewise, this module can help organizations identify and document the personal data they process, evaluate the risks connected to that data, put in place suitable security measures, and effectively handle data breaches.
Third-Party Risk Management Module: This module is designed to help organizations manage the risks associated with integrations, API usage, and other third-party relationships. The module provides features that help organizations identify the third parties with whom they share personal data, the kinds of data they're sharing, assess the risks associated with those third-party partners, and ensure that those third parties are also complying with GDPR requirements. By using this Complyan module, organizations can ensure compliance with GDPR requirements related to data protection and compliance auditing.
Cyber Risk Management Module: This module offers tools for vulnerability management, threat intelligence, and incident response with the goal of assisting enterprises in managing their cyber risks. The tools provided in this module can assist organizations in locating and fixing security flaws in their systems and effectively defending against cyberattacks that might lead to the unintentional disclosure of personal information. These features, therefore, assist businesses in meeting GDPR regulations for data protection and breach notification.
Information Security Policy Builder Module: This module is designed to help organizations develop and maintain effective information security policies. Specifically, the module provides tools that assist businesses in creating and implementing GDPR-compliant policies, ensuring that those policies are up-to-date and relevant, and provide a framework for ongoing compliance efforts. As a result, it helps organizations comply with GDPR requirements related to privacy by design and compliance auditing.
Cybersecurity compliance is easier with Complyan. Get in touch today to begin your compliance journey with Complyan.
---