Complying With the SAMA Cybersecurity Framework: How Complyan Can Help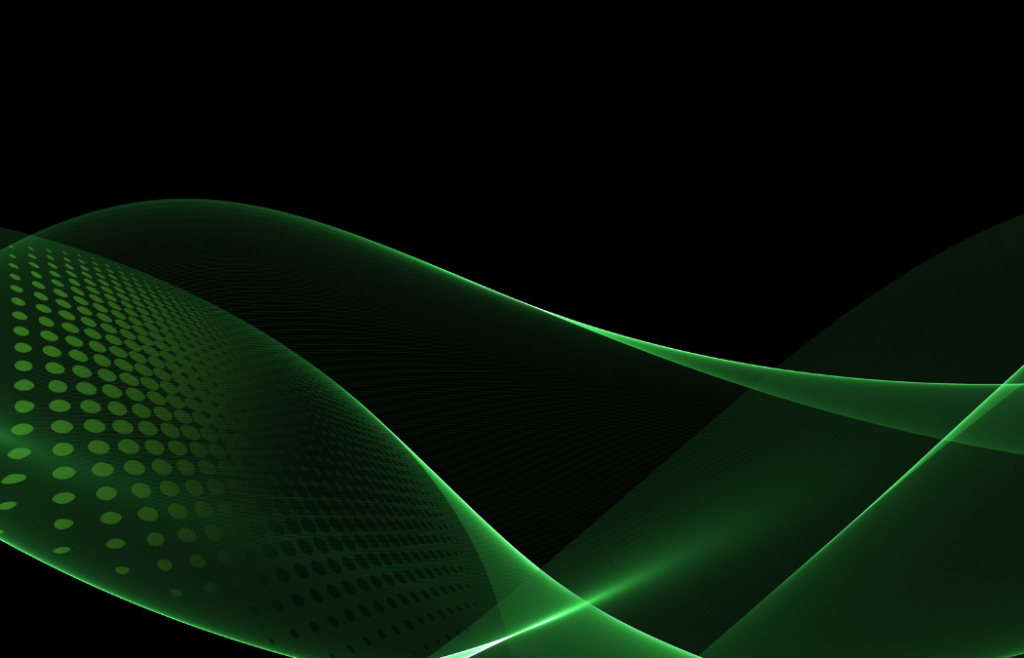 The Kingdom of Saudi Arabia has been one of the most targeted with high-profile and sophisticated cyberattacks due to it's resources and position according to a release by the Institute of New Europe. To mitigate the potential negative effects of these incessant attacks on the economic outlook of the kingdom, the Saudi Arabian Monetary Authority (SAMA) has taken proactive steps to ensure that its member organizations are equipped to manage cyber risks effectively. In 2017, the financial regulatory body developed and introduced a cybersecurity framework to create a common approach for addressing cybersecurity and achieving an appropriate level of cybersecurity maturity.
The SAMA cybersecurity framework applies to various industries, including banks, insurance companies, investment firms, and other financial institutions. Compliance with the framework is not only mandatory but also a critical component for member organizations to ensure that cyber risks are properly managed throughout their operations.
At Complyan, we understand financial institutions' challenges in implementing the SAMA Cybersecurity Framework. That's why we have developed a comprehensive solution to help our clients achieve compliance with the framework efficiently and effectively. With our tools and expertise, financial institutions can be rest assured that their cybersecurity posture is optimized to protect against emerging cyber threats. This post explains the key components of the framework and how to easily achieve compliance with its requirement using Complyan.
Understanding the SAMA Cybersecurity Framework
The SAMA Cybersecurity Framework is a principle-based framework developed to ensure that all member organizations, particularly those in the financial sector, comply with key cybersecurity principles and objectives. Consequently, the framework is based on SAMA's own requirements as well as globally recognized standards such as NIST, ISF, ISO, BASEL, and PCI.
Implementing the security guidelines outlined in this framework applies to all banks, insurance companies, financing institutions, credit bureaus, and financial market infrastructure companies. While all domains apply to the banking sector, other institutions may be exempted from some specified subdomains.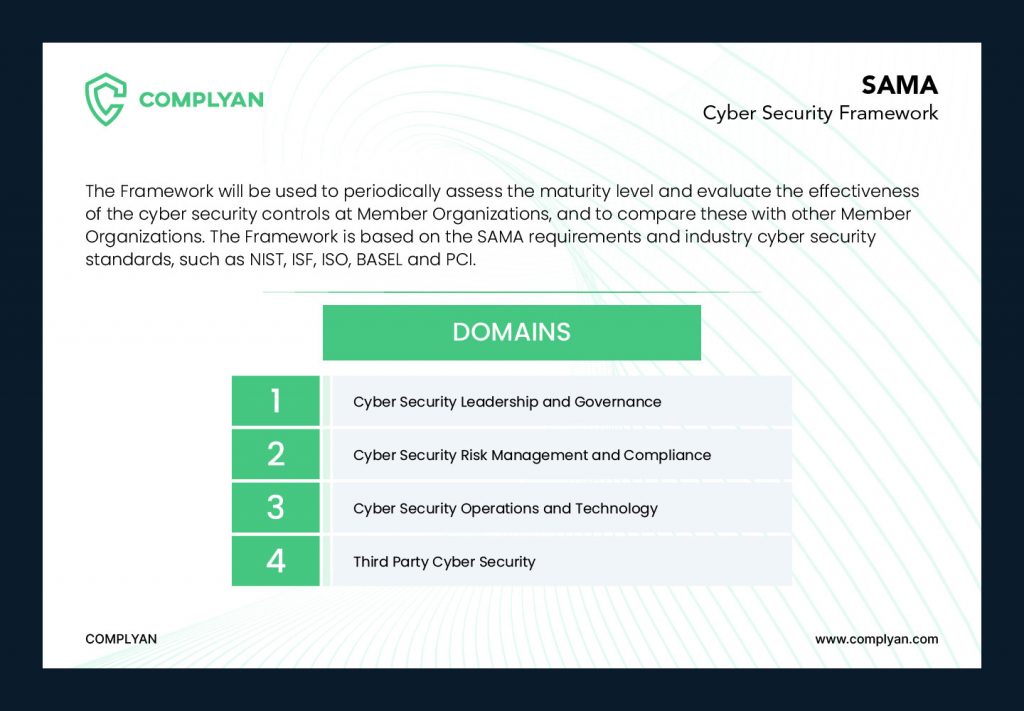 The SAMA Cybersecurity Framework consists of four domains, each focusing on various aspects of a comprehensive cybersecurity project.
Cybersecurity Leadership and Governance: Consisting of seven subdomains, this domain is responsible for creating a culture of cybersecurity within the organization, developing policies and procedures for all organiational activities, and ensuring that resources are allocated appropriately to address cybersecurity risks.
Cybersecurity Risk Management and Compliance: This domain provides cybersecurity practices and principles for identifying, assessing, monitoring, and managing cybersecurity risks, ensuring compliance with applicable regulations and standards, and conducting regular cybersecurity assessments and audits. The 5 subdomains in this domain include risk management, regulatory compliance, compliance with international standards, cybersecurity review, and security audit.
Cybersecurity Operations and Technology: Considerable cyberattacks emanate from inappropriate management of the use of technology in business operations. With principles grouped under 17 different subdomains, this domain is responsible for implementing cybersecurity controls and safeguards to protect against cyber threats, protect organization's Information assets and the processes, maintaining secure technology infrastructure, and protecting sensitive data and assets.
Third-Party Cybersecurity: With the growing reliance on third parties, the security vulnerabilities resulting from interfacing with these third-party services cannot be underestimated. As a result, this domain provides 3 subdomains: contract and vendor management, outsourcing, and cloud computing. These subdomains focus on managing cybersecurity risks associated with third-party vendors and partners, including conducting due diligence, managing contracts and agreements, and monitoring vendor compliance.
Each subdomain within the framework is structured around principle, objective, and control considerations. The framework takes a risk-based approach to state cybersecurity principles and recommends implementing security controls associated with the principle under each subdomain.
The SAMA cybersecurity framework employs a custom maturity model to assess the level of cybersecurity practices within member institutions. The maturity levels range from 0 to 5, each representing different degrees of cybersecurity practices. A maturity level of 0 indicates a non-existent cybersecurity practice, while a level of 5 indicates an adaptive cybersecurity practice.
The framework aims to encourage all member institutions to achieve a minimum maturity level of 3 across all domains and subdomains. This level represents a structured and formalized approach to cybersecurity practices. Achieving this level of maturity will ensure a more secure banking environment in the kingdom, with effective controls in place to manage cyber risks.
Assessment against the maturity model enables member institutions to identify gaps and opportunities for improvement in their cybersecurity practices. It also helps create a clear roadmap for achieving a higher cybersecurity maturity. By leveraging the maturity model, member institutions can ensure a more comprehensive and effective approach to cybersecurity, in line with the framework's requirements.
How can Complyan Help with Compliance?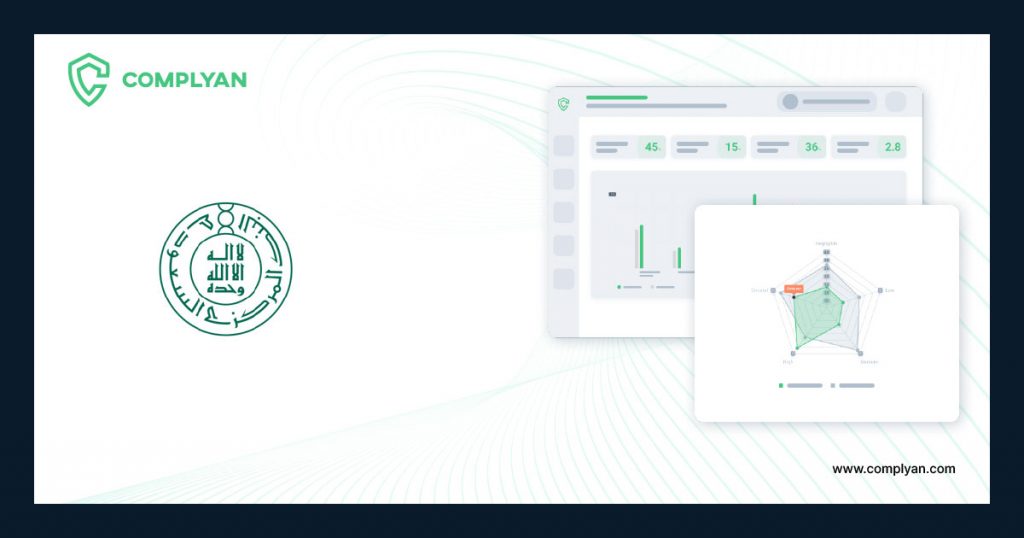 Complyan offers various features and functionalities that can help member institutions achieve compliance with the SAMA Cybersecurity Framework. Some of these features include:
Policy and Procedure Management: Complyan provides a centralized platform for creating, managing, and distributing cybersecurity policies and procedures. This feature ensures that member institutions have the necessary documentation to meet the framework's requirements, simplifying the process of maintaining and updating policies and procedures.
Risk Assessment and Management: Complyan provides a risk assessment and management module that helps member institutions identify and prioritize cybersecurity risks. The platform allows organizations to conduct risk assessments based on the principles and objectives of the framework and provides a range of tools to manage and mitigate risks.
Third-Party Management: Complyan provides a module for managing third-party cybersecurity risks. This feature allows member institutions to assess the cybersecurity posture of third-party suppliers and vendors and ensure that they meet the framework's requirements. The platform also provides tools for monitoring third-party cybersecurity performance and enforcing compliance.
Maturity Assessment: Complyan platform provides an avenue for organizations to visualize the impact of their cybersecurity efforts, making it easier to assess and keep track of their maturity level, even with inviting external evaluators.
Complyan offers a comprehensive set of tools and resources that can help member institutions navigate the requirements of the Framework and achieve a higher level of cybersecurity maturity. The platform provides a comprehensive set of tools and resources to help member institutions navigate the requirements of the Framework and achieve a higher level of cybersecurity maturity. By leveraging the features of Complyan, member institutions can achieve compliance with the SAMA Cybersecurity Framework and improve their overall cybersecurity posture.
Get in touch with Complyan today to begin your journey toward a seamless implementation of the SAMA cybersecurity framework.
---